Buy Chickpea Flour /Gram/Besan (100g)
---
₦2,600 ₦2000 SAVE ₦6,00 TODAY 
LOW STOCK
---
Chickpea flour, also called gram, besan, or garbanzo bean flour, is a diverse legume so many practical use.
Chickpea is also very vitamin, mineral and nutrient-dense and has endless potential health benefits, too numerous to mention here. 
Buy Chickpea Flour - "Best" organic type in Nigerian here:
---
Product Description
---
Calories 269 Kcal.

Manganese (73.43%)
Vitamin B9 (70.50%)
Copper (64.11%)
Iron (59.25%)
Phosphorus (39.43%)




** Based on 164g Serving [1]

* Percent Daily Values (%DVs) mentioned above are based on 2,000 calorie diet intake. Daily values (DVs) may be different depending upon your daily calorie needs.
How To Use Your Chickpea Flour
Chickpea flour can be used in a number of ways. Here are some popular ways people use them:
They are used as a thickener in soups
Chickpea flour is used to making bread and other baked goods
They are applied on the skin in different ways to achieve great benefits. It can be mixed with lemon juice, honey, milk, rose water etc.
Chickpea is used for hair nourishment, especially dry, brittle and/or flaky hair.
Some people use Chickpea flour to replace eggs in cooking (mixed with an equal amount of water)

And much much more.
How To Keep & Store Your Chickpea Flour
Store your chickpea flour in cool dry place.
Health Benefits Of Chickpea Flour
Here are the possible health advantage of Chickpeas; 
Assist in fat Loss, 
Helps Prevents Hair Loss,
Enhance immune system and energy 
Helpful for the Digestive System, 
Beneficial for Diabetes, 
Helps strengthen Bones, 
Helps with bad Cholesterol Reduction,
Helps with Heart Disease,
Helps combat Anti-Ageing, 
May be beneficial for Pregnant Women, 
Good  for the Eyes, 
Considered good for Jaundice,
 May be Beneficial in Cancer
Regulates hormonal levels in women,
Help reduce Inflammation,
Could help Prevents Anemia 
Controls your blood pressure,
Fights Wrinkles


And much More
Shipping & Delivery
---
We ship and deliver  to your door step, using DHL, to anywhere in all the 36 states including:
Abia, Adamawa, Akwa Ibom, Anambra, Abuja, Bauchi, Bayelsa, Benue, Borno, Cross River, Delta, Ebonyi, Edo, Ekiti, Enugu, Gombe, Imo, Jigawa, Kaduna, Kano, Katsina, Kebbi, Kogi, Kwara, Lagos, Nasarawa, Niger, Ogun, Ondo, Osun, Oyo, Plateau, Rivers, Sokoto, Taraba, Yobe, Zamfara. 
And capitals: 
Umuahia, Yola, Uyo, Awka, Bauchi, Yenagoa, Makurdi, Maiduguri, Calabar, Asaba, Abakaliki, Benin City, Ado Ekiti, Enugu, Gombe, Owerri, Dutse, Kaduna, Kano,Katsina, Birnin Kebbi, Lokoja, Ilorin, Lafia, Minna, Abeokuta, Akure, Oshogbo, Ibadan, Jos, Port Harcourt, Sokoto, Jalingo, Damaturu, Gusau.
We also do "Payment On Delivery" for only Lagos residents.
How To Order/Buy Chickpea Flour (100g )
---
| | |
| --- | --- |
| 100g Chickpea Flour  (37.5% Discount!) | |
| | |
STEP 1: Deposit or transfer a sum of ₦3,500 to the Bank details below:
STEP 3: Sit back and relax, your product will be shipped out immediately after payment confirmation.
  OPTION #2 [LAGOS RESIDENTS ONLY ] 
| | |
| --- | --- |
| 100g Chickpea Flour (37.5% Discount!) | |
| | |
STEP 2: Pay ₦3,000  to the delivery man on delivery of your product. 
Need Help Ordering?
---
Send us a message on whatsApp on 08081367041 
Summary 
---
Buy Chickpea Flour/Gram/Besan in Nigeria (Cheap & Fast) 100g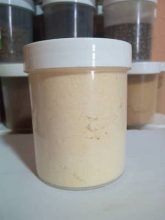 Want to buy Chickpea /Gram/Besan Flour in Nigeria? We deliver organic Chickpea flour to you cheap and fast wherever you live in Nigeria.
Product Currency: NGN
Product Price: 1000
Product In-Stock: InStock
Buy Chickpea /Gram/Besan/Garbanzo Bean Flour (200g organic ) And get it delivered very fast :