Looking for Edo Black Soup recipe? 
You're in the correct place because this recipe post would show you, step by step, how to make black soup the number 1 ultimate way.
Let's get started right away...
How to make Edo Black Soup
Here's how to make the Edo Esan black soup:
This recipe soup originates from Edo state. It's simply made by blending three vegetables and that's what gives it that black colour.
Ingredients:
Directions: 
Blend your scent leaves and Uziza leaves together then blend your bitter leaf separately.
In a large pot, add your assorted meat on medium heat. Add water enough to reach the level of the meat, add your sliced onions, seasoning cube(s) and salt and boil till it's chewy.
Add your washed smoked fish then your already made or store bought palm cream and allow to simmer for 7-15mins. By this time, the soup should begin to thicken.
Add your ground leaves, stir to combine. Check for seasoning and add seasoning cube(s), salt if necessary.
Allow your ground leaves to simmer while adding ground crayfish and dry pepper. Taste again for seasoning and adjust if necessary. Allow to simmer for another 5 minutes then remove from heat.
Video: 
Notes: 
Share this recipe: 
FAQ
Here are some of the frequently asked question about Edo black soup
Can a pregnant woman eat black soup?
A pregnant woman can eat black soup. There is no clinical research that suggest otherwise.
What vegetables are used in making black soup
The vegetables used in making black soup are:Scent leaves (Effirin), Bitterleaf and Uziza leaves.
Summary
Edo Black Soup Recipe (#1 Ultimate way) - FitNigerian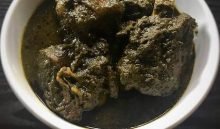 Looking for Nigerian ?
Type: Soup
Cuisine: Nigerian
Keywords: Edo Soup
Recipe Yield: 6 servings
Preparation Time: PT30M
Cooking Time: PT30M
Total Time: PT1H
Recipe Ingredients:
Bitter leaf
uziza leaves
crayfish
palm nut cream
smoked fish
Assorted meat
Dry pepper
Seasoning cube
Salt
Onion
Your Turn
Let me know in the comments below if you have any questions, suggestions, additions or comments.