If you're looking for Ewa Agoyin & Pepper Sauce Recipe, 
Then you're in the right place because this recipe post would walk you through, step-by-step, how to make Ewa Agoyin & Pepper Sauce.
Let's get to to how to make it right away ...
How to make Nigerian Ewa Agoyin & Pepper Sauce Recipe
Here's how to make the Ewa Agoyin & Ewa Agoyin Pepper Sauce.
Ewa Agoyin & Pepper Sauce Recipe
This recipe is the authentic way of making Ewa Agoyin & pepper sauce.
Ingredients Ewa Agoyin Beans:
Ingredients Ewa Agoyin Pepper Sauce:
Directions: 
Soak your dried shombo and bell peppers in hot water possibly overnight or for about 6hours till they get plump.

Slice one of the onions then add your plump dried peppers, minced ginger and Cameroon pepper to a blender. Add a bit of water and blend coarsely (it shouldn't be smooth, let the seeds still show). Transfer into a bowl and set aside.

Measure your beans into a pot, about 6-8 cups of water and boil till it's very soft. This should take about 2 hours. When tender, add a pinch of salt and mash with a hand mixer or masher.

In a large pan, add your palm oil and cover with a tight lid then allow to bleach for about 10-12mins.

Reduce the heat to low after bleaching then add your thinly sliced onions and allow to fry till it's caramelise or slightly burnt.

Add your blended pepper mix into the pan, maintaining a low heat. Add your ground crayfish, seasoning cube(s) and salt to taste. Allow to fry for about 45mins, stirring from time to time. You should get a black colour but not burnt sauce.


Turn off heat and serve your Ewa Agoyin with Agege Bread preferably 
Video: 
Notes: 
Share this recipe: 
Other Recipes: 
FAQ
Here are some of the frequently asked questions about Ewa Agoyin
What is Ewa Agoyin?
Ewa Agoyin is a popular street food in Lagos that is essentially made of mashed beans with pepper sauce. It is mostly accompanied with Agege bread.
Can tomatoes be added to the Ewa Agoyin recipe?
The original Ewa Agoyin recipe doesn't call for tomatoes but for the sake of how hot the sauce can be, you can just reduce the quantity of pepper used.
Is Ewa Agoyin native to Nigeria ?
Ewa Agonyin, against popular belief, is actually a borrowed food from the Agonyin people of Cotonou that has now captivated the hearts of Lagosians in Nigeria.
Summary
Ewa Agoyin & Pepper Sauce Recipe (#1 Authentic) - FitNigerian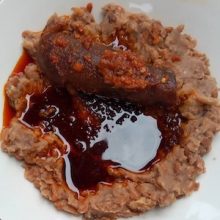 If you're looking for Ewa Agoyin & Pepper Sauce Recipe,
Type: Main course
Cuisine: Nigerian
Keywords: Beans, ewa agoyin sauce, ewa agoyin pepper, ewa agoyin stew
Recipe Yield: 8 servings
Preparation Time: PT10M
Cooking Time: PT2H30M
Total Time: PT2H40M
Recipe Ingredients:
Beans
Palm oil
Shombo peppers
Ginger
Cameroon pepper
Onion
Crayfish
Seasoning cube
Salt
Bell pepper
Your Turn
Let me know in the comments below if you have any comments, questions, or additions.