Interested in how to make Nigerian salad? 
Then this recipe post would walk you through 3 different Nigerian salad recipes 
Let's get to it right away...
How to make Nigerian Salad 
In making your Nigerian Salad, here's a quick look at the classes of food and the different alternatives…
Vegetables - you can incorporate one or all of the above: carrots, tomatoes, lettuce, cabbage, cucumber, spring onions, etc.
Protein - boiled eggs, sliced chicken or turkey breast, corned beef 
Legumes - baked beans, green beans, sweet corn, etc.
Others - you can incorporate one or all of the above: avocado, potatoes, pasta, etc.
Dressing: And finally, the dressing which is usually the popular "Heinz salad cream", Bama or Mayonnaise.
Now that that is out of the way, let's get to the Nigerian salad proper. Let's start with the classic vegetable salad....
Classic Nigerian Vegetable Salad Recipe
This recipe is the gold standard way of making Nigerian salad.
Simple Salad Ingredients:
Directions: 
Boil your Irish potatoes with a little salt till it's al dente (not too soft) and cut into chunks. Cut your hard boiled eggs into smaller pieces.


Cut your tomato and cucumbers into smaller cubes

Slice your carrots, lettuce and cabbage thinly either with a knife or a food processor.

Open the can of baked beans and sweet corn, drain the contents in a colander and set aside.

Arrange all your ingredients in a dried salad bowl. Cover and store in the refrigerator until needed.

When needed, mix all your ingredients together, add your salad cream and serve.
Video: 
Notes: 
Share this recipe: 
How to make Nigerian coleslaw
To make Nigerian coleslaw you require just three main ingredients: grated carrots, cabbage and dressing.

You can get creative with your dressing; you can decide to use the conventional salad cream or make your own dressing with mayonnaise, lemon juice, black pepper and salt.

Let me show you how it's made... 
This recipe is the popular way of making Nigerian Coleslaw.
Simple Salad Ingredients:
Directions: 
Wash your cabbage and slice thinly using either a knife, grater or food processor.

Wash your carrots too, scraping the outer body and shred using a grater.

Mix the cabbage and grated carrots in a bowl.

You can cover and store in the fridge till you're ready to serve, then you add your dressing OR you can mix together with your dressing and allow to chill.

It's best served chilled
Video: 
Notes: 
Share this recipe: 
How to make Nigerian Fruit salad
To make Nigerian fruit salad, you just simply need to combine fruits that go well together.

A combination of fruits like pineapple, apples, pawpaw, banana, watermelon, mangoes, etc.

You can also decide to spice things up with orange juice, coconut flakes, coconut milk, etc.
Nigerian Fruit salad Recipe

This recipe is one simple and tasty way of making Nigerian fruit salad
Ingredients:
Directions:
Prepare all your fruit ingredients: wash, deseed and cut into smaller chunks.

Combine all the ingredients in a bowl, except coconut flakes.

Mix all the ingredients together then cover and store in the refrigerator to chill until you're ready to serve.

When ready, garnish with coconut flakes and serve.

Enjoy! Best served chilled.
Share this recipe: 
Related recipes 
Searching for Nigerian Shawarma Recipe? You have come to the right place because this recipe ...
Looking for Nigerian ? This recipe post would walk you through how to make ...
FAQs on Nigerian Salad Recipe
Here are few common questions about salad and quick answers:
What is the main ingredient in salad?
The main ingredient is the vegetable. It's usually a mix of different vegetables.
What are the items for salad?
The main ingredients are the lettuce and cabbage, but can be accompanied with other ingredients like tomatoes, eggs, cucumber, sweet corn and baked beans.
What are the three types of salad dressing?
we have different types of salad dressing including:
The creamy dressing, this is usually mayonnaise, Greek yoghurt, sour cream or buttermilk flavored with herbs and spices.

The vinegar kind of dressing: white vinegar, apple cider vinegar mixed with any salad cream

Cooked dressings: this is usually a homemade recipe.
What are the basic steps to make a salad?
Choose your lettuce or greens as the base. Popular options are romaine, spinach, mixed greens, arugula, etc.
Add vegetables like tomatoes, cucumbers, carrots, bell peppers, etc. You can slice, dice or chop them.
Include ingredients like cheese, eggs, meat, beans for extra protein.
Add healthy fats from nuts, seeds, avocado.
Include fresh herbs like parsley, basil, oregano to add more flavor.
Make a dressing with oil, vinegar or citrus juice, seasonings.
Toss all the ingredients together until well coated in the dressing.
Top with extra ingredients like croutons, bacon bits, etc. if desired.
What are some tips for making a tasty salad?
Use a variety of textures and colors for visual appeal.
Store delicate greens like spinach separately from other veggies until ready to serve.
Don't overdress your salad. Start with a little dressing and add more to taste.
Add dressing just before serving so the salad doesn't get soggy.
Season each component individually. For example, salt the tomatoes, not just the dressing.
Use high quality ingredients for maximum flavor.
What are some common salad dressing options?
Vinaigrettes made with oil and vinegar or citrus juice
Creamy dressings like ranch, blue cheese, caesar, etc.
Simple dressings like olive oil and balsamic vinegar
Nut or seed based dressings using tahini, almond butter, etc.
Herb infused dressings with ingredients like garlic, parsley, dill.
Sweet dressings with honey, maple syrup, fruit purees.
Dairy-free dressings for vegan salads.
How should I wash and dry the lettuce/greens?
Fill a bowl with cool water and gently swish the leaves around. This helps remove any dirt or debris.
Dry the leaves thoroughly with a salad spinner, paper towels or clean dish towels. Any moisture left on the greens will dilute the dressing.
How do I cut lettuce or greens into bite-size pieces?
Stack washed leaves on top of each other.
Roll the stacked leaves together tightly like a cigar.
Use a sharp knife to slice across the rolled leaves to get ribbon-like pieces.
What vegetables work well raw in salads?
Cucumbers, tomatoes, carrots, bell peppers, radishes, broccoli, cauliflower, snap peas, zucchini are all great raw.
Some vegetables like potatoes, carrots, broccoli can be roasted or blanched first before adding to salad.
How should I store leftover salad?
Store dressing separately. Mix dressing with greens just before eating.
For leafy greens, line a container with paper towels, add greens, top with more paper towels.
For chopped veggies and toppings, store them in airtight containers in the refrigerator.
Most salad components will last 3-5 days stored properly.
What are good salad toppings?
Seeds and nuts - sunflower seeds, walnuts, almonds, pumpkin seeds etc.
Dried fruit - cranberries, raisins, cherries, apricots
Cheese - feta, bleu, parmesan, cheddar, goat cheese
Fresh herbs - parsley, basil, dill, cilantro, oregano, chives
Croutons or toasted bread chunks
Summary
Nigerian Salad Recipe (3 tasty types)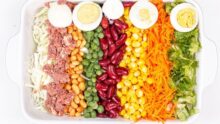 Interested in how to make Nigerian salad? 
Type: Side
Cuisine: Nigerian
Keywords: Vegetable Salad, Coleslaw, Fruit Salad
Recipe Yield: 5 servings
Preparation Time: PT10M
Cooking Time: PT20M
Total Time: PT20M
Recipe Ingredients:
Carrots
Cucumbers
Sweet Corn
Baked Beans
Irish Potatoes
Lettuce
Cabbage
Eggs
Tomato
Salad cream
Beef liver
Recipe Instructions: Boil the potatoes with some salt until they are still a little firm. Cut them into chunks. Chop the hard boiled eggs into small pieces. Dice the tomatoes and cucumbers into little cubes. Thinly slice the carrots, lettuce, and cabbage with a knife or food processor. Drain the canned beans and corn. Put all the ingredients into a salad bowl and refrigerate until ready to eat. When ready, add salad dressing and mix everything together before serving.
Your Turn
Let me know in the comments below which of these recipe you'll  be trying first.