Searching for Nigerian Chicken pie recipe? 
Well, you have come to the right page because this recipe post would walk you through, step by step, how to make Nigerian Chicken pie (the absolutely best way).
Let's get down to business right away...
How to make Nigerian Chicken pie
Here's how to make the Nigerian Chicken pie:
Nigerian Chicken Pie Recipe
This recipe is the gold standard way of making chicken pie using basically flour, baking powder, cold margarine, 1 egg, cold water and a pinch of salt.
Ingredients for chicken pie dough:
Ingredients for chicken pie filling:
Directions: 
In a large pan, heat up your cooking oil on medium heat and sauté onions till it's translucent. Add your ground minced chicken, stir well and fry till it loses its pink colour.

Add your diced carrots and potatoes and about a cup of chicken stock or enough to cook the diced potatoes and carrot till it's soft. Check for seasoning and season with salt, black pepper and seasoning cube(s) as desired.

If cooked to desired taste, add the mixture of plain flour to ½ cup of water to the pan. This acts to keep the filling moist. Stir well then allow to cook for a minute or more. Remove from heat and set aside to cool.

In a large bowl, measure your flour, baking powder, salt and mix together. Add your cold margarine and mix together till you get a crumbly texture then add your egg and mix well.

In little increments, gradually add your cold water into the dough and mix well till all the water has been exhausted. A non-sticky dough should be formed by now. Knead in the bowl for about 5 minutes, cover with a kitchen napkin or nylon and then place in the refrigerator for 30 minutes to rest.

While your dough is resting, Line your baking tray with parchment paper or foil and grease with margarine, preheat the oven to 170C and then whisk the other egg ready for egg wash.

Get your dough out after the 30minutes has elapsed. Divide into parts and with the aid of a rolling pin, roll out the dough to your desired thickness. Cut out a rectangular shape with a knife.

Add the chicken filling with a spoon to the center of the rectangular shaped dough. With a pastry brush, brush all edges with your egg wash to help with sealing and cover both sides. Press all edges properly with a fork and then place on your baking tray. Repeat the process till your dough and/or chicken filling is exhausted.

Rub all chicken pies on the baking tray with egg wash.


Bake in the preheated oven for 35 minutes or till it's golden brown. Ready to serve. 
Video: 
Notes: 
Share this recipe: 
Related recipes 
Searching for Nigerian Shawarma Recipe? You have come to the right place because this recipe ...
Looking for chin chin recipe? This post shows you two (2) ways to make ...
FAQ
Here are some frequently asked questions concerning chicken pie recipe
How can I bake chicken pie without an oven?
You can bake chicken pie without an oven using an Iron stand and a pot containing sand or salt. Video below would be of great assistance:
Summary
Nigerian Chicken Pie Recipe (#1 Best way) - FitNigerian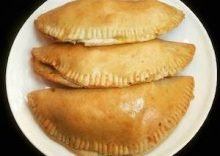 Searching for Nigerian Chicken pie recipe?
Type: Snack
Cuisine: Nigerian
Recipe Yield: 15 servings
Preparation Time: PT30M
Cooking Time: PT50M
Total Time: PT1H20M
Recipe Ingredients:
Flour
Margarine
Egg
Baking Powder
Salt
Chicken
Onion
Irish Potatoes
Carrot
Oil
Seasoning cube
Black Pepper
Salt
Your Turn
Let me know in the comments below if you have any questions, suggestions, or comments.