Looking for Ofe Akwu recipe (or Banga stew)? 
Look no further, you have reached the right page because this recipe post would show you, step by step, how to make Ofe Akwu stew/ Banga stew the absolutely best way
Let's jump into the recipe right away..
How To Make Ofe Akwu 
Here's how to make Ofe Akwu stew/Banga stew:
This recipe is the gold standard way of making Ofe Akwu/Banga stew from the Igbos of Eastern Nigeria.
Ingredients:
Directions:
If extracting from palm fruits, bring your palm fruits to a boil till it's soft then pound till the chaff is out of the nuts. Add warm water to the pounded palm fruit and with the use of a sieve, strain out the extract from the chaff into a bowl and set aside.

In a pot on low-medium heat, add your smoked turkey or beef, meat stock, diced onions, seasoning cube(s) and salt and allow to simmer for about 5-10mins.

After which, add your extracted palm (cream, juice, oil) or canned palm fruit concentrate and allow to boil for a few minutes.

Add your smoked fish, ground crayfish, ogiri (optional) and pepper then stir to combine. Taste for seasoning and adjust if necessary. Let it cook for a while for it to thicken to whichever consistency you prefer.


Add your sliced/ shredded scent leaves, allow to simmer for about 2 minutes then take off heat. Serve with rice and/or beans.
Video: 
Notes
Share this recipe: 
Related recipes 
Looking for Nigerian ? This recipe post would walk you through how to make ...
Looking for Nigerian vegetable soup recipe? You're in the right place because in this post, ...
Summary
Ofe Akwu Recipe (#1 Best way) - FitNigerian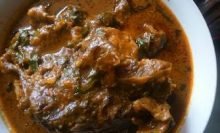 Looking for Nigerian ?
Type: Stew
Cuisine: Nigerian
Recipe Yield: 12 servings
Preparation Time: PT20M
Cooking Time: PT40M
Total Time: PT1H
Recipe Ingredients:
Palm Fruits
Scent Leaves
Ogiri
Crayfish
Smoked Fish
Onion
Pepper
Seasoning cube
Salt
Your Turn
Let me know in the comments below which of these recipe you'll  be trying first.